Our fleet
'Mallorca en taxi' offers you different types of vehicles to suit your needs
TAXI
Max 4 people & bags
Max 4 suitcases
You can book a private and professional transfer betweeen Palma airport and your hotel. Avoid waitings and long queues. Enjoy you holidays!
MINIVAN
Max 8 people & bags
Max 8 suitcases
Do you need a transfer up to 8 people from Palma airport or from your hotel? We can offer you confortable and safety vehicles.
MINIBUS
Max 16 people & bags
Max 16 suitcases
Using a minibus from Palma airport or Palma Port you safe money and you can move together with your family or group of friends.
Our vehicles can load bikes and golf equipment, but you need to inform us at the time of booking.
Mallorca Taxi provides private transfer from Palma airport to various points in Mallorca and from your accommodation (hotel, apartment, cottage, etc ...) to the airport. In Mallorca Taxi you can rent private transfer specifying the flight details. If there is an incidence or delayed flight, our driver, online information services to the airport and will be notified. In Mallorca taxi, we offer a quality service and value in all transfers in Mallorca.
Most Popular Destinations
Mallorca is a Mediterranean island that you must visit to enjoy charming corners and villages that make you feel at home.
Food, beaches, mountains and small villages like Valldemossa, Deià, Esporles,... that you can't miss.
---
GOLF IN MALLORCA
Mallorca offers you more than 25 golf courses located in privileged areas around the island.
Mallorca en Taxi offers transfers in groups to each of the courses so you can enjoy your favorite sport.
Club de Golf Alcanada | Golf Son Gual S.L. | Canyamel Golf | Golf Son Termens | Arabella Golf Son Vida | Golf Park Puntiró | Golf Pollensa
Arabella Golf Son Muntaner | Club de Golf de Son Servera | Capdepera Golf | Real Golf Bendinat | Arabella Golf Son Quint
Golf de Andratx | Golf Maioris | Pula Golf Mallorca | Son Antem Golf Resort & Spa | Club de Golf Santa Ponsa I, II, III | Vall D'Or Golf

Contact us to get the best rate for your group.
---
BIKE ROUTES IN MALLORCA
Many hotels in Mallorca have all the necessary services for the accommodation of groups of cyclists.
You can find services such as spa, gym, restaurants with healthy food, garage for bicycles, mechanics, etc ...
Enjoy the wonderful bike routes around the island!

Contact us if you need a transfer
We have high quality services that you will surely love!
Mallorca airport transfers * Mallorca transfers for groups * Mallorca minivan * Mallorca minibus
It is a registered company in the field of passenger transport.
Always rely on legitimate companies
It's good for everyone!
Our Success
Our goal is to improve every day and offer our clients a service of quality and professionalism that makes us different.
-Majorca Taxi offers different services between Palma de Mallorca airport and other destinations around the island.
-Taxi to anywhere in Mallorca.
-Taxis and minibuses for groups.
-Book directly online from home or from any other place.
-We organize transfers in your holidays.
You can contact directly with one of our drivers, thus you avoid extra charges.
Forget long waits at the airport and drive immediately without time to lose.
> You can use our services or taxi transfer credit card to pay the driver.
> You pay the driver when you reach your destination.
> Keep in mind that children and adults are passengers with seat. We have child seats at no extra charge.
Find us at the airport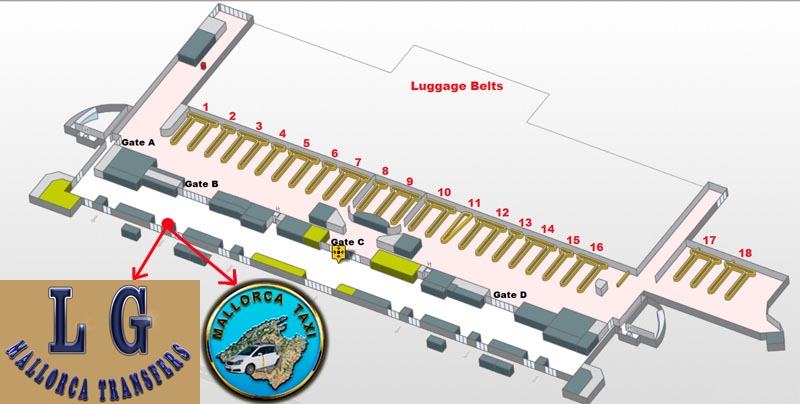 Our meeting point is located in front of door B (Palma airport).
We will waiting for you at the meeting point and if your fly is delayed, don't worry, we check all the flights in our system.
---
---
MALLORCA en TAXI offers you private transfers from Palma airport to your hotel or any other place in Mallorca.
We can also organize comfortable transfers for your private party or event.

In Mallorca taxi, we offer a quality service and value in all transfers in Mallorca.
We are known for our reliability, quality and efficiency.
Our huge experience in the field of passengers transport makes our company one of the most modern in the Balearic Islands.
We take care of the customers more than anything else, and our main goal is to achieve your satisfaction.
Mallorca Taxi has a large fleet of vehicles to carry out their transfers.
You can arrange a transfer to your hotel in Alcudia, Cala Ratjada, Andratx, Santa Ponsa, Playa de Muro or any other place, avoiding long queues at the airport.
You have continuous contact with your driver about schedule changes.
From our website you can fill out a registration form and one of our managers will contact you to confirm the reservation.
All prices on Majorca taxi transfers are available on our website.
These rates depend only on the destination and number of people.
The luggage transport (suitcases and handbags) are included.
Transfers are provided by taxi or minibus. This is an exclusive service.
Golf carts have an additional charge of 4€ and bicycles have a fee of 7€
In Mallorca taxi seats are included.
In Mallorca taxi we take care of the safety of all passengers. So children take a seat and has to advise us at time of booking to prepare the corresponding chairs.
Enjoy your stay in Mallorca carefree transfers. Mallorca Taxi does it for you:
- Airport pick up
- Transfer to the hotel
- Pick up from the hotel
- Back to the airport, Transfer
You can pay with Visa or cash to the driver.
Some of our most popular destinations are:
Transfer from the airport Palma to:

Alcudia * Cala Bona * Cala Barca * Cala Mesquida * Cala San Vicente * Ca'n Picafort * Cala Ratjada * Cala Millor * Cala Mandia * Calas de Mallorca * Cala D'or * Colonia de Sant Jordi * Palma * Playa de Muro * Palmanova * Port D'Alcudia * Port de Pollensa * Sa Coma * Palmanova * Magaluf * Paguera * Santa Ponsa * Port D'Andratx * Deia * Port de Soller
Trust us!
Our customers have been doing for years!